In the past few years, the speed of backup & restore has made it to most of the large enterprise CEO "to achieve" list. The problem is raising up as the amount of the data is growing exponentially, where the backup window is shrinking. Its no longer acceptable to take a database down for backup or even keep it in backup mode for few hours. The restore time is even getting more critical. Its no longer acceptable to require few hours to restore a 1TB database or an e-mail. Few hours database downtime in a financial firm can mean a loss in millions of dollars, I am not sure how would the IT department make up for that. Will they be able to get back to their desk next morning? For all that storage snapshotting technology has came into play.
Storage snapshotting is not a new technology, though it has not been adopted widely as keeping data consistency with it was difficult. Storage snapshotting alone can't ensure the consistency of your data. You will have to combine the storage snapshotting with a piece of software to ensure its consistency. Though if you have got the right storage hardware & the right software to get a consistent snapshot of your data you are in luck. You can backup with a few seconds backup windows, and more importantly you can restore a 1 TB database in a matter of seconds rather than hours.
Few vendors have offered a combination of storage snapshotting & a software to ensure the consistency of the backup including IBM, EMC, & NetAPP for a while. Though most of these solutions were complex & not user friendly beside NetApp SnapManager. NetApp was able to gain a great chunk of the Windows based customers by highly marketing their SnapManager capabilities. NetApp Storage were chosen many time over other vendors storage who can deliver a better scalability & performance due to the easiness & features of their SnapManager. IBM has an early try at competing with NetApp SnapManager by releasing IBM Tivoli Storage Manager for Copy Services few years back. Though IBM Tivoli Storage Manager was too complicated to install & not user friendly. It was totally scattered between many components, which made it barely used anywhere.
The good part IBM has woken up few weeks back and released IBM Tivoli Storage FlashCopy Manager. Its not only easy to install, but it has a very user friendly interface. I believe IBM Tivoli Storage FlashCopy Manager will gain a great share of the market & will highly compete if not even bust NetApp SnapManager. Below are only few of the great features of IBM Tivoli Storage FlashCopy Manager offer:
1- IBM Tivoli Storage FlashCopy Manager offer an intuative easy to use user interface. Every feature is handy to you at a press of a button with the GUI interface. All components are integrated under one product & one interface, which make it easy to use even by the average administrator.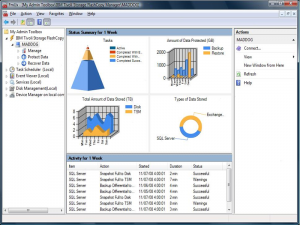 2- IBM Tivoli Storage FlashCopy Manager support all of  Microsoft Exchange, MS SQL, Oracle, IBM DB2,  & SAP.
3- IBM Tivoli Storage FlashCopy Manager offer you the capability to get a trasnaction consistent backup using flashcopy (Snapshotting) within seconds, as well allow you to restore within seconds instead of hours or days.
4- IBM Tivoli Storage FlashCopy Manager is an affordable solution.
5- IBM Tivoli Storage FlashCopy Manager offer an optional integration with IBM Tivoli Storage Manager. By enabling TDP license in IBM Tivoli Storage FlashCopy Manager you will enable TDP features inside the IBM TFCM without having to install any extra components. TDP will be totally managed using the same interface & will add quite few important features to IBM TFCM that no other snapshotting solution in the market including NetAPP SnapManager can compete with:
Point in Time Recovery using a FlashCopy snapshot & replaying logs from TSM. This feature will save you a great amount on storage, as you will not have to keep a snapshot for every moment you want to restore to. You can take one snapshot in the morning & only take logs for the rest of the day. When you restore you restore the snapshot & replay the logs quickly after that.
Fully integrated backup solution, which integrate TFCM FlashCopies & Tape backup for archiving & long term backup.
Centralized backup policy management & Hierarchical storage management.
6- It support a wide range of storage arrays including IBM DS3000/DS4000/DS5000/DS6000/DS8000, XIV, SVC. In addition, it can support most of other vendors storage if installed behind SVC.
It seems IBM Tivoli Storage FlashCopy Manager will bust many other snapshotting solutions out there in the market & steal a large part of their share. If you have an IBM storage & your backup window is getting too short or your restore time is not quick enough you might want to check out IBM Tivoli Storage FlashCopy Manager. If you are opting for a new storage for an enterprise with a 24×7 goal, then you should ask your IBM representative about IBM Tivoli FlashCopy Manger. If you are not using IBM storage & still need the capabilities of IBM Tivoli FlashCopy manager then contact your IBM representitive to see the best solution for you.
I hope this post was informative, & please leave a comment below.
Subscribe RSS 2.0 feed. Leave a response, or Trackback from your own site.
Leave a Reply
Author: Eiad Al-Aqqad
Eiad Al-Aqqad, VCDX#89
Senior Consultant
VMware Canada PSO
My Linkedin
Resources
Blog Categories
Recent Comments:
Recent Trackbacks:
Previous Posts
Blogroll