If you have decided to use StarWind Virtual Tape Library in an environment where you have Symantec Backup Exec and looking to find out how to integrate both products together then you have came to the right place. In fact if you have used or setup Symantec Backup Exec with ADIC Scalar 100 or HP MSL 2024 Tape library previously then you have went through the complete process before.
In this post, I will show you how to integrate your Symantec Backup Exec with StarWind Virtual Tape Library that is emulating HP MSL 2024. This post, assume you have already setup the StarWind Virtual Tape Library & drives. If you have not yet done so, then please start by going through my previous post: StarWind Virtual Tape Library. Now that you have got the StarWind Virtual Tape Library ready, let's the integration with Symantec Backup Exec begin.
PRE-CONFIGURING THE SERVERS
The below figure shows the reference network diagram of the configuration described in this guide. StarWind server running VTL device and Hypervisor running VMs and Symantec Backup Exec software are connected directly, but it is possible to wire them through switches as optional.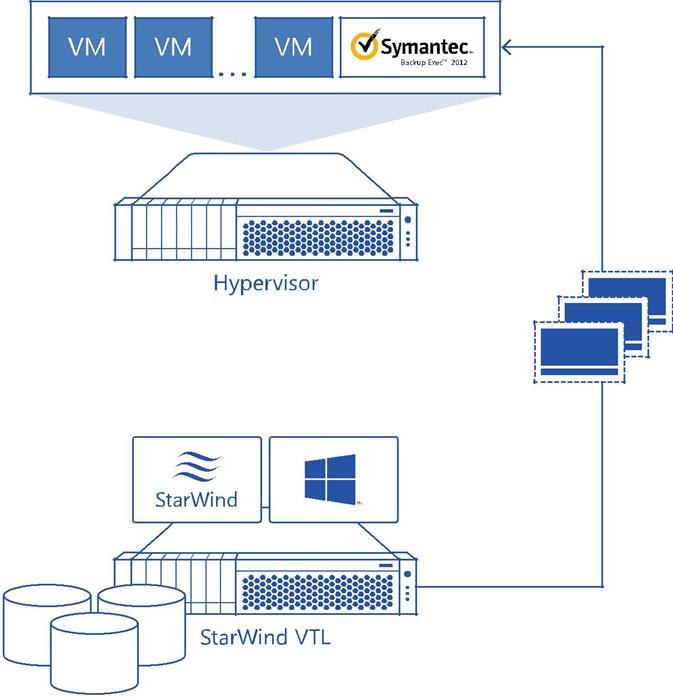 Configuring StarWind Virtual Tape Library in Windows
1. Note there is no tape device connected or detected yet.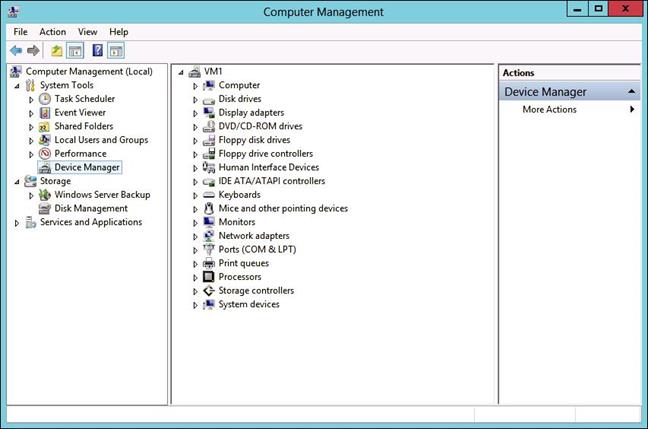 2. Launch MS iSCSI initiator. Switch to Discovery tab. Click Discover Portal and enter the IP address of StarWind server with VTL created.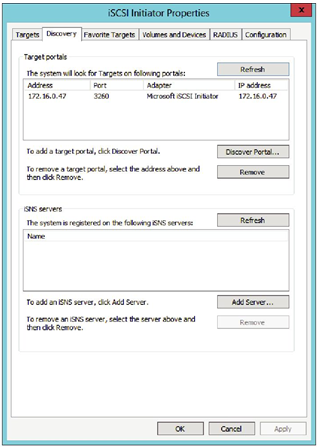 3. Switch to Targets tab and connect the target.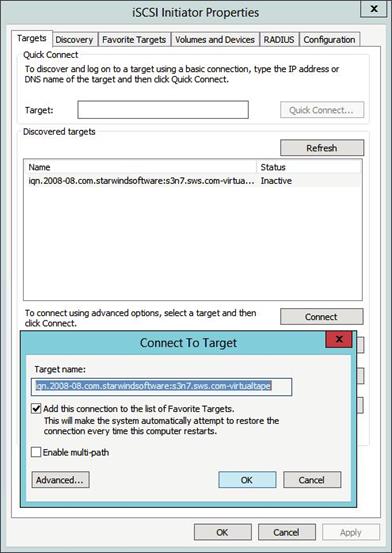 4. Tape drive and autoloader appears.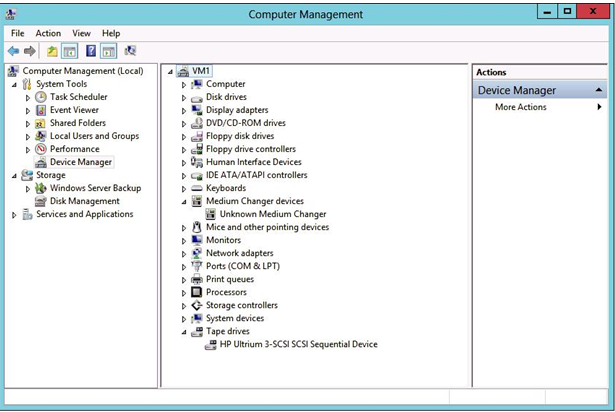 5. Install the tape divers.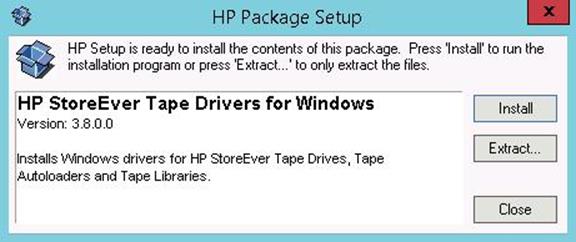 6. The drivers are installed.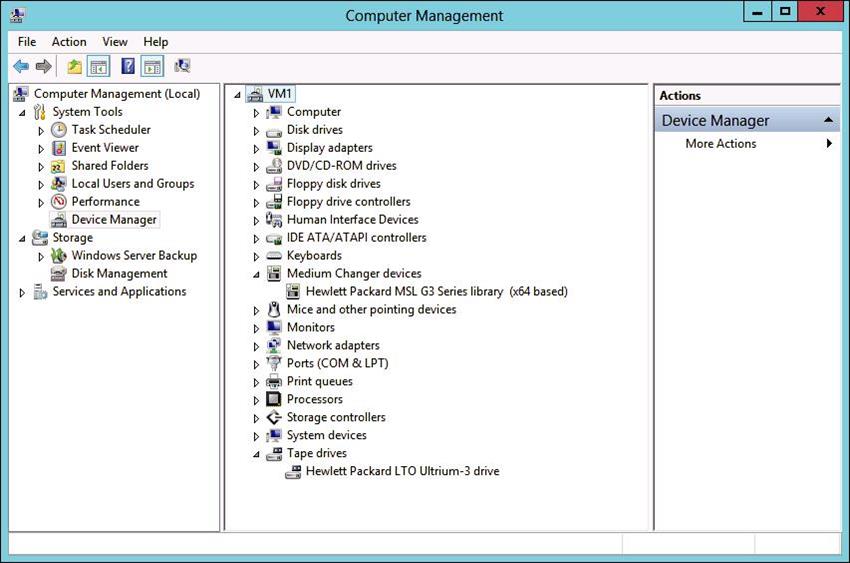 7. Now perform backup and/or restore.

Configuring StarWind VTL in SYMANTEC BACKUP EXEC
1. Open Symantec Backup Exec Storage tab.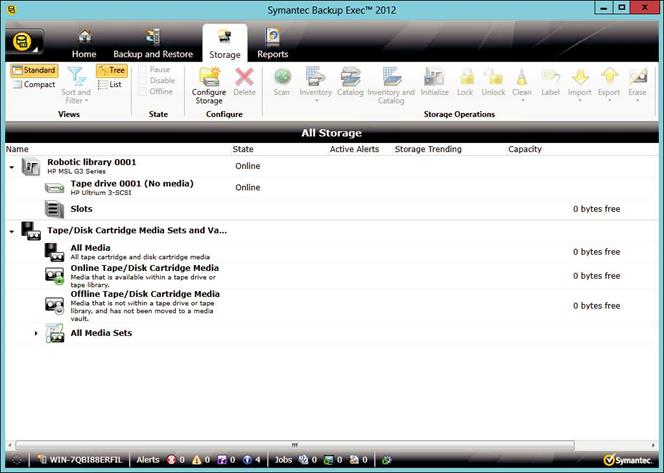 Note: If there's no tape device on tab Storage after target connection in MS Initiator,
initiate restart.
2. To Scan, Erase, Inventory and catalog tapes double-click on Slots.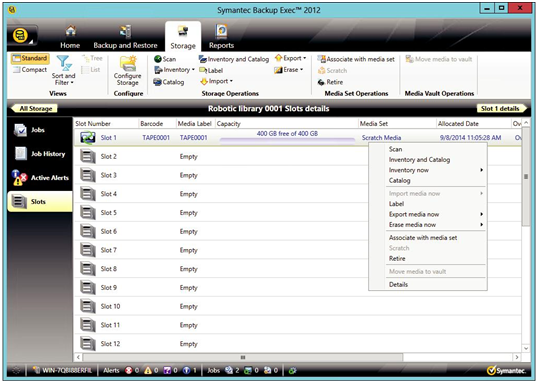 3. On Backup and Restore tab click Backup button to configure long time backup settings or click One-Time backup to do one-time backup. Select Back Up to Tape.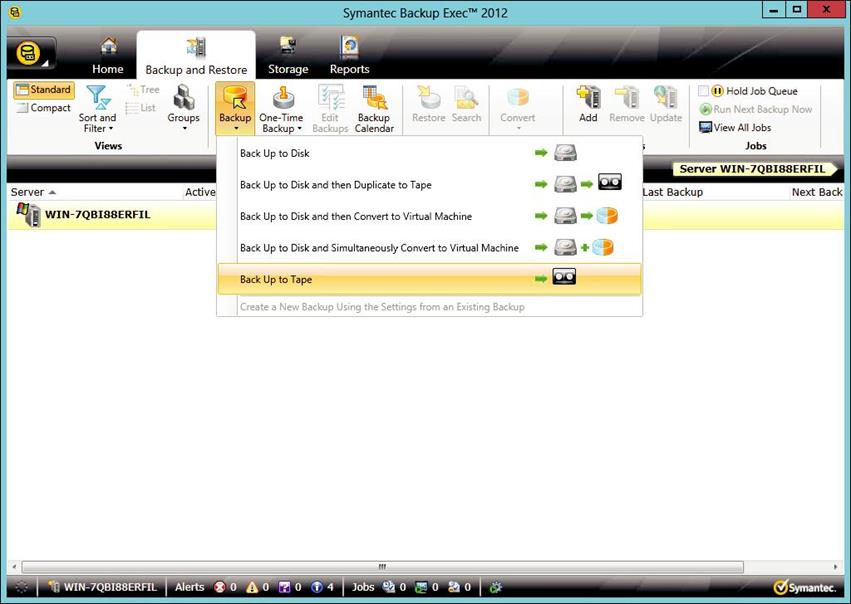 4. Configure the Backup settings and click OK.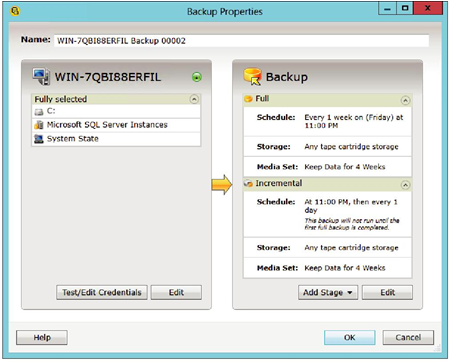 5. When backing up is started you will see it in status field. To see details double-click on server.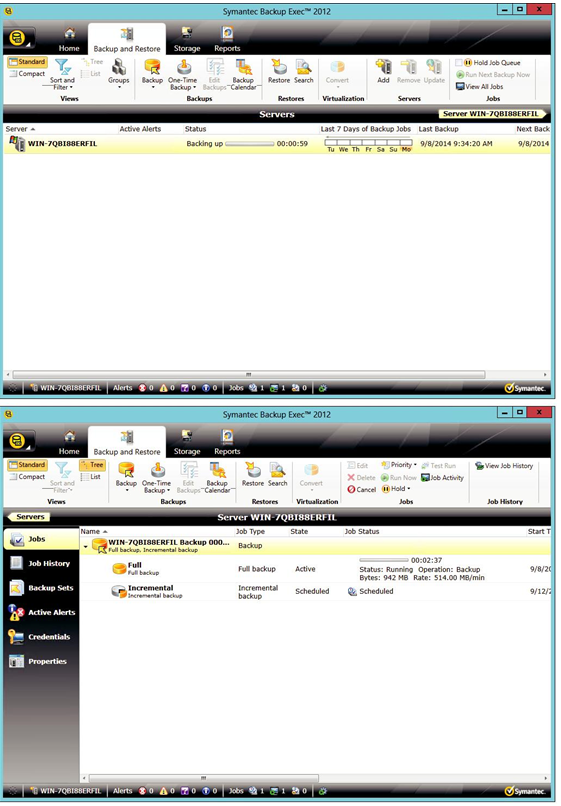 6. To restore data click Restore button on Backup and Restore tab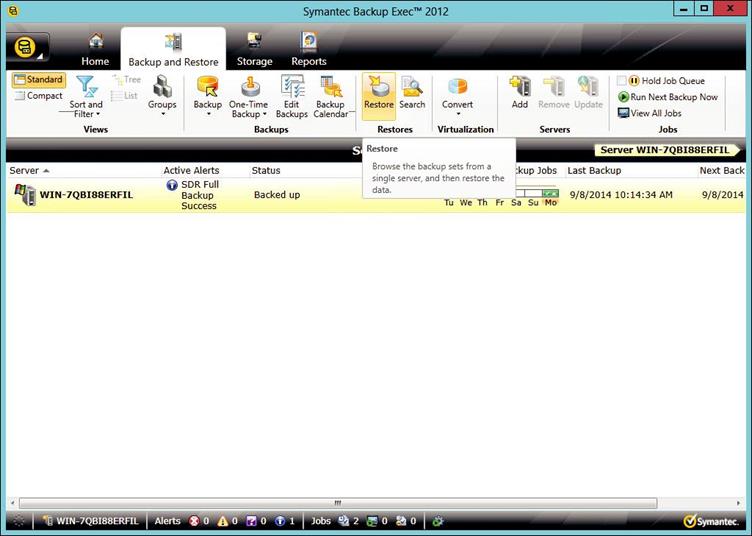 7. Select the type of data you want to restore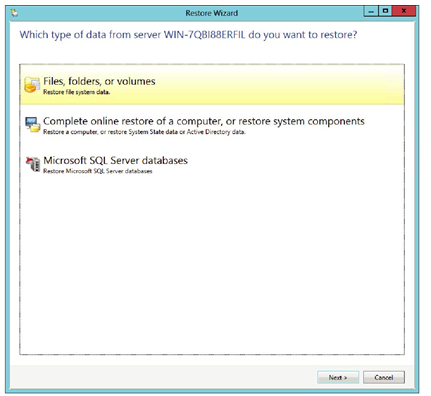 8. Select location to restoring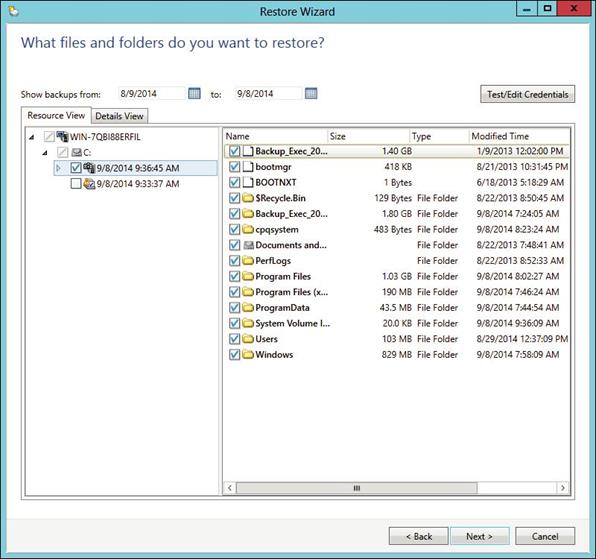 9. Configure restoring settings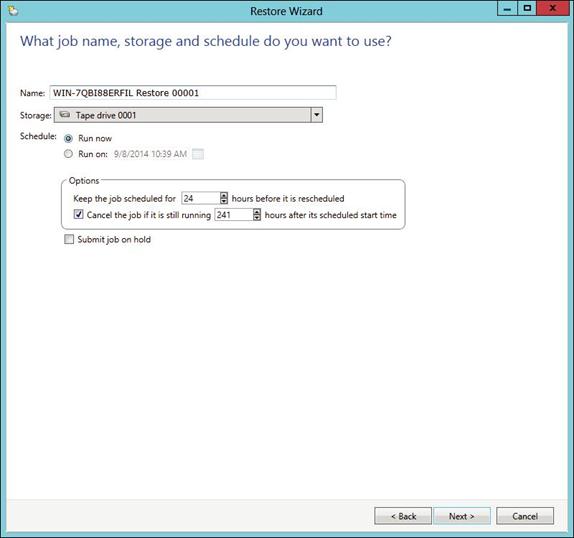 10. View summary, click Finish.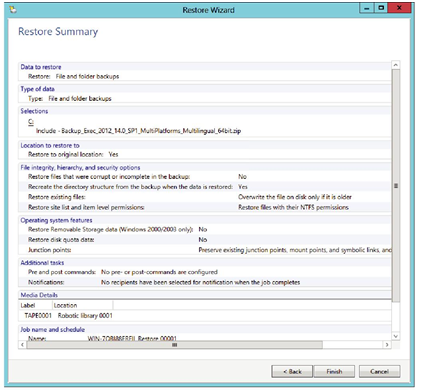 11. To see restoring details double-click on server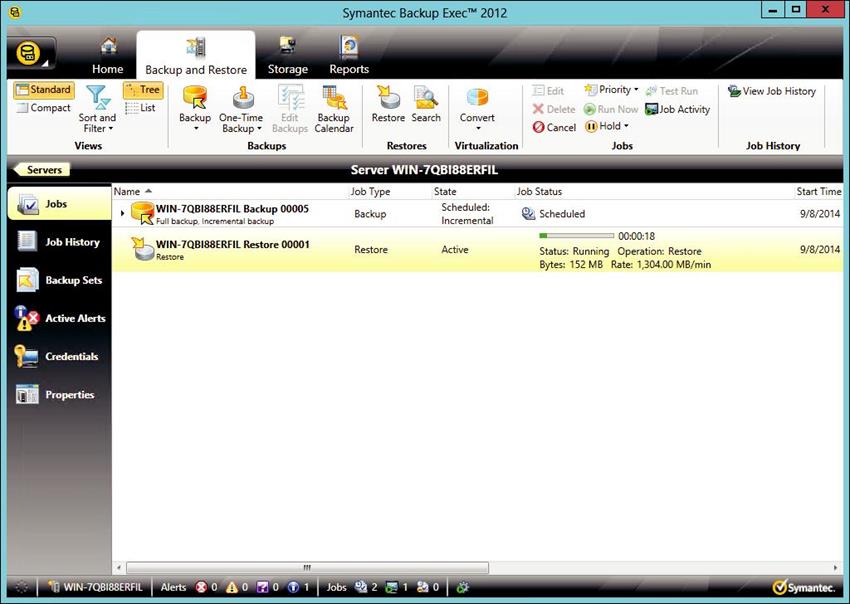 Now that you are done, yon use your Symantec Backup Exec to backup your environment just as you would using any tape library you have traditionally used to, but at a much faster speed. Please leave you feedback and comments in the comments area below.
Subscribe RSS 2.0 feed. Leave a response, or Trackback from your own site.
One Response to 'Symantec Backup Exec StarWind Virtual Tape Library Integration'
Should Virtual Tape Library have a place in your backup strategy? - TSM – IBM Tivoli Storage Manager Guru Blog - March 12th, 2015 at 9:04 pm

[…] TSM – IBM Tivoli Storage Manager Guru Blog TSM Guru Blog covers all your Tivoli Storage Manager backup software needs « Symantec Backup Exec StarWind Virtual Tape Library Integration […]
Leave a Reply
Author: Eiad Al-Aqqad
Eiad Al-Aqqad, VCDX#89
Senior Consultant
VMware Canada PSO
My Linkedin
Resources
Blog Categories
Recent Comments:
Recent Trackbacks:
Previous Posts
Blogroll